Douglas Ross
Founder, CEO | Evolution Media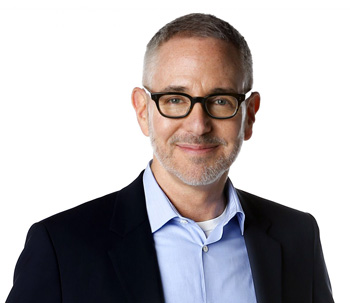 If a "hit" reality series is one that satiates viewers' voyeuristic appetites and drives pop-culture, Douglas Ross-CEO Evolution Media has mastered the recipe. "The Real Housewives of Beverly Hills" and "Vanderpump Rules" are two of Evolution's docu-style series that stand unparalleled in pop-culture impact, and now being recognized with dual nominations for NATPE's Breakthrough Award. And let's not forget Evolution's original breakthrough that started it all- "The Real Housewives of Orange County".
Mr. Ross joins iPitch.tv's "Insiders Get Reel" Series for an inspired chat, sharing with us his strategies for shepherding a cast of high-octane personalities while coaxing coverage of private affairs that fuel the show's success. We also get news of a spin-off, and a possible return to their roots as large structured format series producers [ Evolution produced the inaugural seasons of both Fear Factor and Big Brother].
iPitch.tv: Douglas, thank you for taking time out of your schedule for us. Natpe Miami is right around the corner and two of your flagship shows "Real Housewives of Beverly Hills" and "Vanderpump Rules" have been nominated for Natpe's Breakthrough Award. That speaks to the impact each has had on viewers, as well as establishing these brands above others in a highly populated genre. What is the x-factor each of these shows has that gives it that special ingredient for success? And what do you personally love about each show?
Douglas Ross | Evolution Media: I'm proud that both shows are really real…and although we curate the stories and figure out how tell them so they make sense to the viewers…what makes the shows so compelling for the viewers is that they can't resist their own voyeuristic tendencies to watch what should be utterly private stories unfold before their eyes. I'm proud of our storytelling…and the distinctive style with which we present the stories!
iP: Keeping the story content of any docu-series evolving and growing is critical for retaining viewership. You've been very successful at managing that process, but what are some of the challenges you face, even with series' as successful as 'Housewives and Vanderpump Rules?
DR: The challenge for returning shows is to keep the cast members (who have become familiar with the production process) from producing overly self-serving storylines for themselves. I think the reason that viewers keep coming back for more of both the HOUSEWIVES and VANDERPUMP RULES is that we've managed to keep the stories real, authentic…and both surprising and relatable at the same time. The trick is constant communication with each cast member — and gently, but firmly, reminding them that what made the viewers love them in the first place was their unfiltered willingness to be themselves and to be real in front of the cameras.
iP: If we assume that "casting is creating" in any docu-series, what do you look for in prospective characters that gives you confidence in the content delivered?
DR: I used to believe that people could "grow" into being interesting and comfortable in front of the cameras. But now, with 55 series under my belt, I've changed my opinion and now believe you need to recognize the spark (aka "the it factor") in the first few seconds of watching a candidate's casting tape. It's impossible to define because it boils down to a gut feeling: is this person fun and/or interesting to watch? And if you don't feel it in the first few seconds of the casting tape, then they probably don't have "it."
iP: You certainly have a knack for making the right choices when it comes to spinoffs involving particular characters and storylines. You haven't botched anything yet. Speaking of...can you share with us anything currently in the spinoff pipeline?
DR: We're currently shooting a spinoff of BOTCHED, called BOTCHED BY NATURE. The show leverages the "buddy comedy" dynamic of our two surgeons that we successfully developed in the original series, but challenges them with even more complicated cases. This time, we're taking the show on the road and the doctors travel across the country to each patient's home and get a chance to really understand "where the patient is coming from." All the most popular beats from the original series are included so it will feel familiar, but of course we've added in many new elements to make it fresh.
iP: Moving into another arena...You produced "Fear Factor" and "Big Brother" in their inaugural seasons. Both became huge hits in the format business. Would you ever revisit that big format genre, and what does it take for you to make a move in that direction with an original format?
DR: For many years, Evolution was known as a format company. Along with BIG BROTHER and FEAR FACTOR, we produced hundreds of hours of 10 YEARS YOUNGER and CLEAN SWEEP and YO MOMMA. It wasn't until we started producing THE REAL HOUSEWIVES OF ORANGE COUNTY that the industry decided to label us a "docu-soap" company. And as much as we love the docu-soap style of storytelling, formats are part of our DNA, and in fact, BOTCHED was developed specifically to get us back into the format game. We're currently developing more formats, but with very strong story components — sort of a blending of our two worlds.
iP: Would Evolution Media ever consider a bid in the world of game show formats?
DR: I really enjoy game shows (I record JEOPARDY and watch it every night while I'm cooking dinner!) and would love the opportunity to produce a game format. We've developed many over the years but haven't had any luck in getting one on the air.
iP: For the new Creator/Producer developing a new format, what do you feel viewers need to experience in order to get behind a new show?
DR: There has to be a simple hook somewhere in the show that feels satisfying. In fact, the whole concept needs to be simple, easy to follow, and easy enough to figure out what's going on even if you tune in 20 minutes late. For BOTCHED, it's the before and after "reveal" — which in and of itself is not an original idea but because the underlying concept of fixing botched plastic surgery is new, the tried and true "reveal" is super satisfying…and that's what keeps viewers sticking around right up to the very end of the show.
iP: We'd like to ask you about the challenges of pitching, at any level. What advice can you give to a new producer bringing an original concept to marketplaces like Natpe, iPitch.tv or other avenues? What should their priority be when communicating a concept with a buyer?
DR: Keep it simple. Keep it short. Lead with a story or an idea that establishes the right "filter" through which the buyer should listen to the pitch. If you can't explain the idea in 30 seconds, then the buyer certainly won't be able to "sell it upstairs" to their bosses.
iP: I'd like to tap into the personal side of your journey to success. Can you share with us any pivotal moments that made your career, or set your mind with a perspective that is still resonating in your success today?
DR: Twenty eight years ago- early in Evolution's history — we had no money and felt lucky if we booked a gig with a total budget of $5000. After a bunch of little jobs like that, we got tapped to co-produce an innovative kids series with WGBH in Boston and finally had enough of a budget to hire a PA to help out. Up to that point, me and my two business partners literally did everything — produce, shoot, edit, wardrobe, transportation…everything! We treated that first PA like a king — we were just so happy to have the help. And, I realized that success depended on my team feeling the same passion for, and dedication to the job that I did. I resolved at that moment to always treat everyone on my team with respect and to value and encourage their contribution. "Taking good care of your crew so they take good care of you" has been my motto ever since, and the collaborative spirit that is as strong today as it ever was is one of my most proud accomplishments at Evolution.
iP: We wish you the best of success with your current and future programming, Doug, as well as the Natpe Nom's! Thanks for sharing your insight with us.
"Insiders Get Reel" Series at iPitch.tv