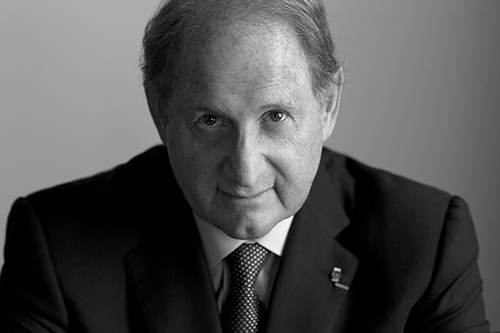 "Rocky", "Annie Hall", "One Flew Over The Cuckoo's Nest", "Platoon", "Amadeus", "Dances With Wolves", and "Black Swan" are just a sampling from the spectacular cinematic career of legendary studio chief and producer Mike Medavoy. They paint our memories as some of America's greatest films, and also garnered 17 Academy Award nominations, with 7 Oscar wins. Not one to rest on his laurels, the Rocky producer is proving he's still in the fight, delivering ground-breaking work in both film and television today.
Fresh off his Toronto International Film Festival premiere of "The Promise" (A romance/drama set against the WWI era genocide of Armenians, directed by Terry George and starring Christian Bale) and tackling pre-production for a highly anticipated mini-series at NATGeo, Mr. Medavoy joined us for a chat about indie film, TV today, and falling in love with this "business of dreams".
iPitch.tv - It's a pleasure to have this time with you, Mr. Medavoy. I understand you just returned from Toronto where your latest film, THE PROMISE, premiered. How were the audience reactions, and how do you feel it will resonate?
Mike Medavoy | Phoenix Pictures – I was at two of the sold out screenings of THE PROMISE. They both went extremely well, they received a standing ovation. The critics reaction will probably be mixed, and now the deniers of the Armenian Genocide will be out in force.
iP - Looking at your body of work- films you've shepherded as studio head, films you've produced; "Platoon", "Amadeus", "Dances With Wolves", "The Thin Red Line", "The 33" and so many others through to "The Promise", they represent you as having a very broad sense of time and place...historical significance, and varied settings and societies in which your stories are told. Is a part of you tied to each? Or is it purely escapism?
Medavoy – I have always been interested in as many varied projects as I could get my hands on, but often it's the combination of filmmaker, script, story and cast that makes me decide to try to do it or get it done. I came to loving films as a child. It was a business of dreams. We transfer reality to life and life to entertainment – real magic. Imagine being able to do that – a fantasy becomes real.
iP - If "Ideas", or as you put it "dreams" and story are commodities in our industry, what are the components you look for in a pitch to believe in the project's potential, and be able to nurture and develop it into a great movie script?
Medavoy - It's hard to give you an answer, the usual answer is... I don't know, but when I see it I will know.
iP - Looking back at independent filmmaking decades ago, and the process of pitching, producing, and finding distribution for a film, how does it contrast with the challenges or benefits of today's indie film market?
Medavoy – The whole process of making independent movies today has changed a lot since I started in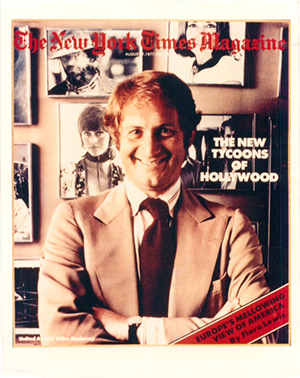 the late 1960's. The beginning at that time was rough but a few break-through films changed it all. Easy Rider was the first one that seemed to unlock a lot of it. It was an inexpensive movie distributed by a major studio. United Artists was an independent company founded to distribute independent films. It became home to Bill Wilder, Woody Allen, Fred Zinneman, and others. Today, studio movies are stuck in the comic books or sequels and remakes and most of them are not very good. Movies are not only expensive to make but marketing has gotten astronomical – also the cost of going to the movies is a lot higher. Strangely enough, there is a renaissance in animation, largely due to advances in technology – we are living in an age of technology and communications.
iP - I want to hear about the mini-series for NATGeo you're producing, but first need to ask- Many film studios have had to adapt and shift focus to television, or streaming platforms like Netflix. Do you see this as a sacrifice of art for a film studio's survival in our economic environment?
Medavoy - It's my sense that the lines between television and feature films are blurring, and that there are opportunities to tell meaningful, original stories in a longer format that were previously more difficult to tell due to runtime constrictions for theatrical films. There are a lot of talented filmmakers, writers, and cast that are taking an interest in television too, which is helpful.
iP - Do you feel the theatrical experience- going to a theater to watch a film on the big screen- will ever reach a point of being more of a novelty than a norm? Or is my question the same type of worry filmmakers had when things moved from celluloid to digital?
Medavoy - It is changing, and I'm sure more changes are coming, but it's always about good stories, good acting, great directing... and of course, good photography and editing.
iP - Early in your career you took on a script written by an unknown screenwriter who was also an unknown aspiring actor...Not exactly a bankable combination. That Writer and Actor was Sylvester Stallone...and that script was titled "Rocky". You knew Rocky before the rest of the world. What did you first see?
Medavoy – A story of the underdog told with a heart... in this case the heart of a champion.
iP - Much like its main character, I understand the film itself was an underdog even after initial release.
Medavoy- I don't think any of it was predictable, but what an amazing tale. I love Sylvester and his family, and I'm really happy for him.
iP - You've delivered incredible character studies with films like "One Flew Over The Cuckoo's Nest", "Rocky", and "Annie Hall"- all having won Best Picture Oscars. For any screenwriter approaching a fictionalized story, what makes a character great?
Medavoy – A great actor, a great story and a wonderful group of people committed to bringing it to the screen.
iP - If truth can be even more compelling than fiction, I'm especially excited about "The Long Road Home" mini-series you're producing with NATGeo. It really does feed viewers' current appetites for series that have the intensity of a movie but with an expanded story arc. What pushed you beyond a two-hour format for this project? Can you describe what we'll see?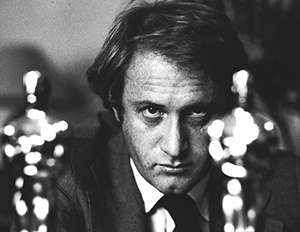 Medavoy – The Long Road home is based on the New York Times best-selling book written by Martha Raddatz about a heroic fight for survival during the Iraq War when the First Cavalry Division from Fort Hood, Texas, was ferociously ambushed on April 4, 2004, in Sadr City, Baghdad — a day that came to be known in military annals as "Black Sunday."
Telling stories in a longer format gives you the time to get to know your characters better, and follow them on a longer journey than you otherwise might be able to in a theatrical format. In this case, a platoon was ambushed and trapped under siege for 8 hours, so to honor that story and those characters, we chose to tell it over 8 hours as well, mirroring the battle itself with time spent following our soldiers under fire as well as their families back in Fort Hood on the home front.
iP - When I think of your films, I see my childhood- I feel nostalgia. Its a great feeling. If you watch any of your early films, do you enjoy them as the rest of us do? Or are you too close to them, and you're just seeing the moving parts in the machine? What of it do you enjoy most?
Medavoy – I know only this: I have worked hard to fulfill my dreams. I have made mistakes, but I know that when it's all said and done, no one will remember me but my family and a few friends, but people will remember what I have done.
iP - With all that you've contributed to this business of dreams, what do you say to the filmmakers and producers of today for the benefit of future audiences?
Medavoy – Dare to be adventurous. Tell stories with a passion that befits why you are doing it. It's not about money – it's at the heart an art form of all art forms. Remember, it's all highly speculative and unpredictable, but when it works, there can't be a better feeling. It's there forever and I know it's done by many people, not just me.
iP - Thank you for sharing this time, and continuing to share your stories with all of us.
"Insiders Get Reel" Series at iPitch.tv